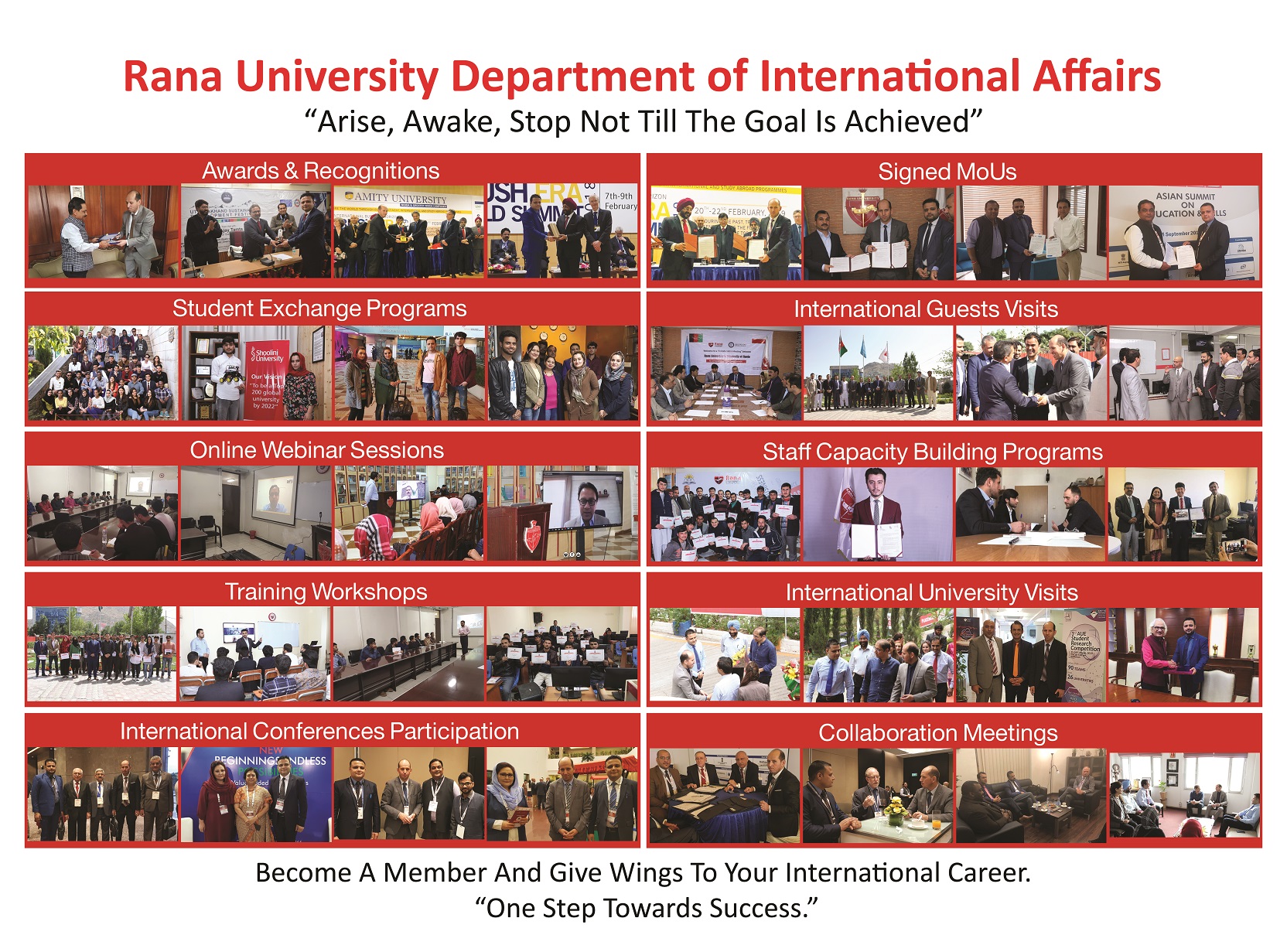 Introduction
The Office of International Affairs, handles with cooperative activities between Rana University and foreign universities & institutes, which include creating partnerships, facilitating student & faculty exchanges, and joint research collaboration. In addition, the International Center offers administrative support to international students and foreign visiting faculty members so that they can smoothly adapt to life in Afghanistan. As a one-stop service department, the International Affairs department provides all kinds of assistance in the areas of visa affairs, insurance, housing, and academic affairs etc. Rana University department of International Affairs staff are genuinely committed to delivering top quality services to teachers and students.
Recognizing the importance of international cooperation among universities throughout the world, Rana University has established a number of international collaborations and exchange agreements with major foreign universities and maintains friendly relationships with them. At present Rana University continues to develop strong academic bonds with more than 30 Higher Education Institutions of learning in 10 countries. Through such links, professors and students are able to gain a more global outlook on their academic experience. The general features of these international collaborations and exchange programs are as follows; the exchange of professors for joint research and lectures, the exchange of students for study, and the exchange of publications, literature and information. Listed in the table below are the foreign universities with which Rana University has agreement for international collaborations and exchange programs. In accordance with the growing trend towards globalization, Rana University is setting up a distinctive strategy to expand and diversify its international programs and activities substantially.
Mission
The main mission of the Rana University International Relations Department is to enhance and strengthen the reputation of the Rana University in the International Society.
Vision
The main vision of Rana University International Relations Department is aimed to realize the main strategic tasks of the Rana University achieving an international level of competitiveness of the results of educational and research activities, increasing the number and enhancing the efficiency of international treaties and agreements concluded.
Main Activities
Support for creating international exchange agreements with overseas universities.
Support for the exchange of students and faculty members.
Support for Rana University International activities.
Support information for worldwide scholarships.
Support for international students and foreign visiting faculty.
Reception of foreign specialists and delegations.
Planning and coordination business trip of professors, researchers, graduates and students abroad
Participation in international conferences, workshops, seminars.
Reception of foreign professors, graduates and students for an internship at National and International Level.
Preparation of contracts, work programs and other documents on cooperation with foreign universities.
Support and development of academic and scientific cooperation with foreign partners.
Development of cooperation agreements.
Development of forms of cooperation.
Drawing up of annual cooperation working programs.
Development of joint educational programs (semester / year abroad, double degree diplomas, language internships, internship at a foreign enterprise).
Exchange of students and professors within the framework of joint educational projects.
Oral and written translation.
Correspondence with a foreign partner.
The International Relations Department carries out an international cooperation with many higher educational institutions and enterprises. At the moment, more than 06 Memorandum of Understanding signed with National Universities and more than 30 agreements have been signed with representatives of universities and companies of different countries like (USA, Poland, Australia, Turkey, Russia, UAE, India).
Rana University Alliance at National Level
| S.N | Organization Name | MoU Country |
| --- | --- | --- |
| 1 | MoU Signed Between Rana University & Asia University | Afghanistan |
| 2 | MoU Signed Between Rana University & Taj Institute of Higher Education | Afghanistan |
| 3 | MoU Signed Between Rana University & Jami University | Afghanistan |
| 4 | MoU Signed Between Rana University & Rokhan Institute of Higher Education | Afghanistan |
| 5 | MoU Signed Between Rana University & Kabul University | Afghanistan |
| 6 | MoU Signed Between Rana University & Strategic Social | Afghanistan |
Rana University Alliance at International Level
| S.N | Organization Name | MoU Country |
| --- | --- | --- |
| 1 | MoU Signed Between Rana University & HTEC (Harvest Technical Collage of Education) | Australia |
| 2 | MoU Signed Between Rana University & King International University | Australia |
| 3 | MoU Signed Between Rana University & Align Associates | India |
| 4 | MoU Signed Between Rana University & Shoolini University | India |
| 5 | MoU Signed Between Rana University & Amity University | India |
| 6 | MoU Signed Between Rana University & Iha Consulting Services | India |
| 7 | MoU Signed Between Rana University & Sharda University | India |
| 8 | MoU Signed Between Rana University & Jetking Institute | India |
| 9 | MoU Signed Between Rana University & The Dais Foundation | India |
| 10 | MoU Signed Between Rana University & Word University of Design | India |
| 11 | MoU Signed with Shri Venkateshwara University Amroha Uttar Pradesh | India |
| 12 | MoU Signed With Jagran Lakecity University Bhopal Madhya Pradesh India | India |
| 13 | MoU with Rishi UBR PG College For Women Hyderabad India | India |
| 14 | MoU with Siddhartha Institute of Technology Telangana India | India |
| 15 | MoU with Lee Shreya's Foundation | India |
| 16 | MoU with Sreyas Institute of Engineering Telangana India | India |
| 17 | MoU with Sreyas International Journal of Scientists and Technocrats | India |
| 18 | MoU with LSF Asian Record Book Private Limited Hyderabad Telangana India | India |
| 19 | MoU with RISHI M.S Institute of Engineering and Technology For Women Hyderabad Telangana | India |
| 20 | MoU Signed With Jinan University | London |
| 21 | MoU With Middle East University for Science and Technology Middle East | Middle East |
| 22 | MoU Signed Between Rana University & Opole University For Erasmus Program | Poland |
| 23 | MoU Signed With Belgorod State Technical University | Russia |
| 24 | MoU Signed With Ankara University, Ankara Turkey | Turkey |
| 25 | MoU with 11 Arabic Universities Signed in BAKAF (I.U.U) | Turkey |
| 26 | MoU Signed With Rana University & Ball State University | USA |
| 27 | MoU Signed with Talent Based Solution USA | USA |
| 28 | MoU Signed with USKUDAR University Turkey | Turkey |
| 29 | MoU Signed With Istanbul Aydin University | Turkey |
| 30 | MoU Signed With Istanbul Gelisim University | Turkey |